How to Play NLCB Pick 2 Trinidad and Tobago
A Pick 2 playslip includes three (3) panels, titled PANEL A, PANEL B, and PANEL C. Each panel contains two groups of numbers, "FIRST" and "SECOND," both containing 1 through 36.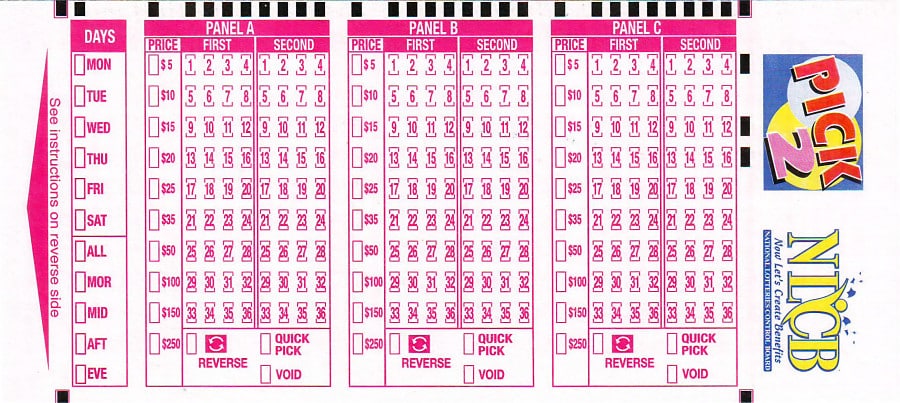 Make two marks, one in the "FIRST" group and one in the "SECOND" group, with a dark blue or black pen or pencil. You will not be able to register your numbers if you use red ink.
If you would like the terminal to pick two random numbers for you, mark the "QUICK PICK" box.
Under "PRICE", select the amount you wish to wager. If "ALL" is selected, your wager will apply to all draws.
You can play your numbers for multiple days by marking the appropriate box under "DAYS" on the left side of the play slip. Your panels will play for as many days as you want (Monday through Saturday). The days selected may or may not be consecutive. You may also play the Morning, Midday, Afternoon, or Evening draw only, or a combination of two or three draws. By selecting "ALL", you will be able to play all four draws. In the absence of a boc, the terminal will automatically play your numbers for the next draw.
Mark the "REVERSE" box if you wish to reverse the order of the two chosen numbers.
From the On-Line terminal, you will receive a ticket listing your chosen draw(s) and numbers. Be sure to check your ticket before leaving the store.